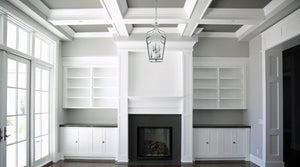 Attention All Trim Contractors, Renovators and DIY'ers.
Send Us Your finished Trim-Work Photos For A Chance To Win a $100 Dining Gift Card and Be Featured On Our Website!
Win a $100 Dining Gift Card
We'd like to showcase your Trim work and talents on our website and social media.
We'll add your Bio and Contact Info and it's a great way to showcase your talents and create awareness for your brand or business.
Send in your best finished Trim-work photos that you have taken using some or all of our Crown and Trim products that you have purchased from us and if we use your photo on our website we'll send you a $100 Gift Card. 
We will be selecting the 5 best Crown and Trim photos that showcase some of the following:
1 Before and After Trim Transformations featuring our Trim
2 Creative and High Quality Workmanship featuring our Trim
3.Wall and Celing Crown and Trimwork showcasing our Trim
4.Traditional and Modern Updates applied showcasing our Trim
Email us your photo entries to:
promotions@cambridgecrownandtrim.ca
Please include your name and phone number as well as any social media links that we may attach to your photos if you'd like to add. It's a great way to attract new clients!
website:
facebook url:
instagram name:
We're looking for great looking trim photos that showcase Trim that you have purchased from Cambridge Crown and Trim and that feature your amazing ideas and installation talents. Please submit photos by March 18, 2023. Thank you for participating.
---